Monday is on the calendar which means new week is here and new week on Pride aswell!
Congratulations
panace4. for getting MOTW. Hyper Beast is now his own.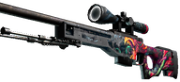 Also we are now giving away real money instead of skins, just like any other contest do. And we opened donate so you can increase the prize pool for pride urself. Raise the bar!
By the way, all the pride works are now going to be uploaded on special Pride channel so if you are much into Pride consider subscribing. Best works as always will be uploaded to main channel.