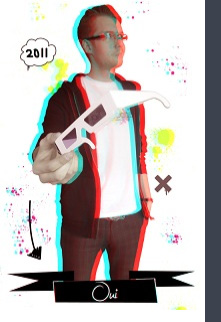 Hi Oui, first off I would like to thank you for your time and start with the usual: tell us who you are, where you are from and what you are doing? And don't forget to tell us, where your nick name origins from and how it is pronounced correctly.
Hi! My names is Bartlomiej Otlowski also known as Oui and I'm from Poland. In the gaming community I'm a Counter-Strike moviemaker.
Last month I've got a certificate of competences as technician, organization of advertising activities. Currently I'm a student of Wroclaw Movie College on 3rd - last year, on a two profiles: editing and animation. I'm also student of photography since October.
I'm a freelancer in motion design but also work in my own media group Eye-Motion - editing commercials, making vfx, motion design. Overall post-production. I also work in viral marketing.
Let's get back to my nickname. "Oui" means "Yes" in French. So it's not a strange set of vowels. When I was a child I had a friend and she had in school French lessons. After them she always said "Ouiiiiiii". I liked it and that's the story of my nickname. Watch a French porn movie and you will know how to pronounce it. ;)
Many might know your work from movies like Candy and your contribution to MovieNations Rave On. Which I liked both pretty much. Are you working on any new video at the moment? And if yes, can you tell us any details about it?
Yes, I'm working on a new project. I don't hurry up because I've started it many months ago, but usually I don't have motivation or time to work on it. So it's the slowest project in my life. Who doesn't know it, it will be Lollipops 2. I would like to take this opportunity to officially say that this is the last CS movie of my career. It's time to retire.
Can you tell us more about Lollipops 2?
The movie is based on fast tempo and crazy actions. You can expect insane frags, tricks and sometimes stupid moments. The main theme is South Park like in the first part. This time, however, I focused on it more and you will see animations with real voice-overs of players from real actions. I really wanted to make this movie look like the first part, so you could see that this is a sequel. You will be able to see a reference to the first part and to the best moments of it. But this time you won't see any gay-teletubbies. ;)
Will we see all the players from the first part?
No you won't. It will be few new faces and few are disappeared. The main reason is inactive players. Even I do not play for more than 2.5 years, so my actions are not up-to-date, but they are certainly worth a look. In Lollipops 2 you will see: blacksmile, cheb, cloud, cynaR, deepz, DexeN, Djoko, eax, FiK, FistOr, flouchy, Hoa, jaco, JaxeN, kab, LENYO, NatH, pedda, rev, s0iL, spunge, Zaknafein, zeun and me.
When will Lollipops 2 be out?
This year, don't know exactly when. I need to make an outro and few FX. Follow the facebook page and you'll know all update about it.
Where do you get your inspiration from? Drugs, porn & WWII like me and all the other Germans or is there anything else?
I'll quote Kelly from the movie The Girl Next Door "It's like a gift, you know? It's like I can't control it." And it's true. Ideas just pop out of my head. This is what I always repeat, your fun is only limited by your imagination.
What about your part in Rave On. I mean the gay-style. What the hell?
This project was fun. We wanted to make something fresh, something original, new and to show we can make a revolution in the gaming community. And we did it. Unfortunately many people don't understand my part. Besides the gay song. This was a pastiche. Teletubbies, BDSM, Hello Kitty, pink models and this song was a crazy mix. :)
How do you approach a new video? Do you hear a song and then you get the idea "that's the song I want to use in a movie!" Or vice versa, at first the idea and then you look for songs which fit to that idea?
It depends, but most of the movies were made through searching for a song after an idea. Often, when I listen to music I know what could fit with it, but I have too little time or just don't want to make it.
How do you manage to find the time to make movies? They take so much to make especially if they are not utter crap. And how do you motivate yourself to continue working on them?
It's the most difficult thing. In a gaming movie you have to be a director, operator, editor, animator etc. so one short movie takes a lot of time and work. So it's easy to lose the motivation. Usually when I have no motivation I make a break for one or two months. Sometimes for a year. It's not good for a project to work without fun so better make a break than making a crappy movie.
Have you ever tried to impress a girl (or a boy) with your movies?
Ohhh.. you mean like shitty ultra-stupid Alive movie. Hahaha no, I didn't have such idiotic idea. But for sure it's easier to impress a girl when you tell her you are a student of Movie School. It works. ;)
What would you suggest someone who is new to the scene? How does one become a good moviemaker? Or what is even a good moviemaker in your opinion?
"Always be a poet, even in prose." Charles Baudelaire
A good moviemaker makes you inspired by viewing his movies.
Some quick questions:
Editing software?
What additional software do you use for your movies?
Small advert but I'm Adobe Production Premium user so mostly After Effects and Photoshop.
Favorite gamebased movies?
Superplayers by Bear-Art and K!lling spree by goseY. These movies inspired me to be a moviemaker. By the way action of Muffe from K!lling spree 3 is my favorite action ever made.
Favorite gaming movie website?
Planet-Videos and MovieNations
Any favorite moviemaker(s) (besides me)?
I have two favorite moviemakers because their styles are similar to mine.
RavenTL
– joy of moviemaking.
s0iL
– giving a new look and modernization without any crappy 3d to old CS.
Favorite real movies?
American Beauty, Dead Poets Society, Remember the Titans, Shakespeare in Love, V for Vendetta. Czech Dream, Wall-E
Favorite tv shows?
South Park, Death Note, That 70's Show, Malcolm in the Middle
Favorite bands?
Rise Against, Dead by April, Dropkick Murphys
Favorite dish(es)?
Mexican! And extremely spicy!
Favorite websites?
Favorite Polish person?
Favorite German person (be reminded: Hitler was Austrian!)?
DexeN. I love his laugh! Just few seconds of his laugh and you are in a good mood!
Do you believe in a religion?
Favorite hair shampoo?
How much do you love Planet-Videos? (No trick question!)
Are you kidding me? You are Germans… ;)
Now we got all that stuff discussed, I would like to ask you even more non-game related questions!
Are you excited about the UEFA Euro next year in your country?
Not really. Basketball is much better but yeah, I will watch EURO for sure. The best thing of this situation is we will have real football stadiums.
Is Poland going to win this time?
If we will survive a group it would be a celebration. We are lame in football so I don't expect anything else.
It might be a cliché, but is hooliganism really that big in Poland? I got my information from the media and the Real Football Factories series, but that could also be pretty exaggerated.
I think like everywhere. For example few days ago, November 11th - National Independence Day of Poland and German hooligans (note from the interviewer: these were "Antifa" morons) in Warsaw. No matter where you live, you can be an idiot.
What hobbies do you have besides making movies and molest people on the interwebs?
I love to cook! This is my second passion in my life. Sometimes I like more to cook something than to make a movie. Also I have a plantation of chili peppers in my room. Extremely hot chilis like Bhut Jolokia. I like to play with soil, water plants, making bonsai trees from chili etc. I also have few carnivorous plants - Droseras and Venus flytraps. I like to play Frisbee also.
Last question: do you want to confess anything? Maybe you stole ideas, shoplifted candy or even gave Clockwork Orange a low rating on imdb?
Few days ago I've made a facebook account. News about Lollipops 2 and other stuff.
Last shoutouts?
Your fun is only limited by your imagination.
Thank you Oui and we hope to see more quality stuff coming from you! And I really appreciate it that you put up with all the questions. Some of them were not even my idea! I just was the lackey forced to ask them.
napalm, Planet-Videos.com
26th of November, 2011